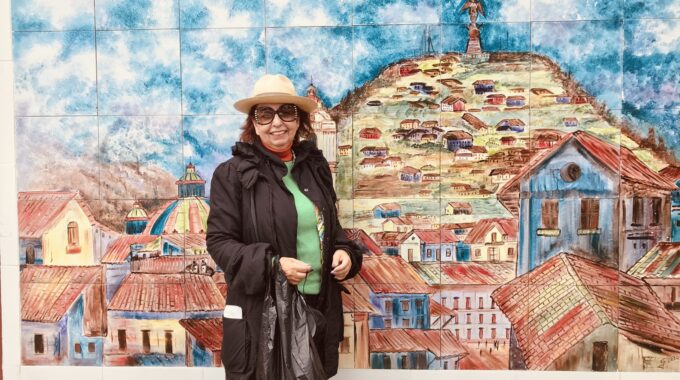 The Galápagos Islands – Part 1
The Galápagos Islands – Part 1
Over the years, I have been incredibly fortunate to travel all over the world. One of the destinations I have always dreamed of visiting is the famous Galápagos Islands.
To celebrate my birthday, my dear friend Lanie joined me for a 14-day once-in-a-lifetime trip to the Galápagos Islands.
However, this was no vacation. It was an epic adventure!
After returning home this past week, I prepared a three-part blog series on my adventure and insights. But even before I publish this on my new blog, I wanted to share these experiences with all my friends and those who have been supporting my writings for years on Facebook.
This is part one. Enjoy.
THE MIDDLE OF THE WORLD
We flew into Miami from Los Angeles and then onto Quito for a couple of days before making the next leg of our journey to the Galápagos Islands.
Quito is the capital of Ecuador. Built on the foundation of an ancient Incan city, it has a lot of colorful culture and is also known as "The Middle of the World".
The Earth's equator crosses thirteen countries, but only Quito is named after it, making it the official-unofficial "middle of the world".
At night, the equator offers a unique viewing experience where you can see the Northern Hemisphere constellations while simultaneously seeing the Southern Hemisphere constellations.
Ecuador is also one of the volcanic hotspots in the world as there are currently 84 volcanoes. Thankfully, none of them erupted during our brief stay.
THE LAND BEFORE TIME
Once we arrived at the Galápagos Islands, it was one adventure after the other. Too many to recount here.
We encountered some beautiful people and a host of odd, but precious creatures who call these islands their home.
We crossed paths with a vast array of local wildlife.
Some of the highlights were a one-week-old baby sea lion on Fernandina Island, the adorable and famous Blue Footed Booby, the colorful Sally Lightfoot Crab, the Galápagos Mockingbird (which sound very different than the ones here in the states).
There were little Penguins and clusters of massive, Marine Iguanas on a cliff on the Isabela Island, as well as Land Iguanas, and then there was a very special, 600+ pound Tortoise that had a special birthday message for me.
Click here to read more about my birthday encounter with the Tortoise and some inspiring observations I made while visiting The Galápagos Islands in Part 2.