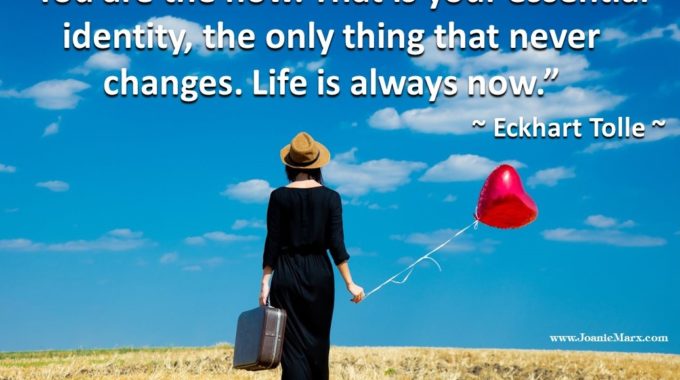 By Joanie Marx
The unknown is the very moment we're afraid of being conscious of. It is what I call, the now of nows. What this means is that if we refuse to let go of the baggage we carry from one now moment to the next, we are in essence allowing our past to hold us back from living our best life in the only moment that counts…right now.
There are many nows in our life, ranging from the countless nows we experienced in the past, to the nows we dream of in the future. There is, however, only one now, and it's this very moment.
So what happens to our old identity when we let go of the baggage we used to believe protected us and made us who we are? Eckhart Tolle addressed this when he wrote that, "You are the now. That is your essential identity, the only thing that never changes. Life is always now."
Within each of us is the creative power to clear whatever baggage we are still carrying and step into the roles we were born to play. We are younger and happier now than in any of the days that follow, because right now…this is it. We have no other moment to live our best life than the one we're in right now.
Want to learn more about the Seven Baby Boomer Myths and how you can Refocus & Renew Your Life™ right now? Go to Amazon today and order my #1 Amazon Best Selling book, "Facelifts, Money and Prince Charming: Break Baby Boomer Myths and Live Your Best Life".
http://www.amazon.com/Facelifts-Money-Prince-Charming-Boomer/dp/1507765681/ref=tmm_pap_swatch_0?_encoding=UTF8&qid=1425406393&sr=1-1