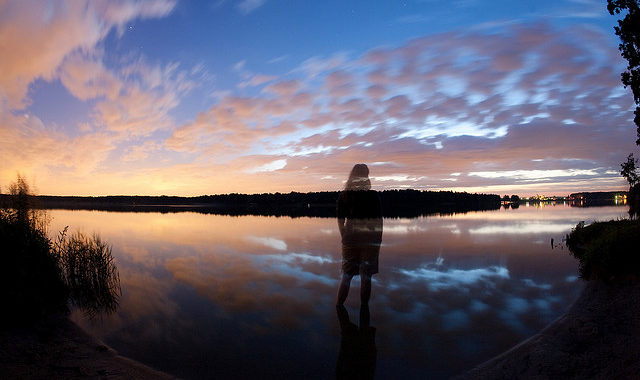 ~ THE TRUTH OF WHO WE ARE* ~
By Joanie Marx
As actors, we are taught to own the scene, but we are also taught to surrender the need to control the scene. Truthful acting is setting yourself up to be out of control, to be provoked, and emotionally triggered by your scene partner, honestly and without adding or changing that genuine response. Bad acting is re-directing the response from your partner and going to a safe/comfortable place instead of the actual response the words and scene partner evoke in you. An actor's prayer is answered when the lines ring true and the story grips the audience.
A great piece of acting is effortless and carries with it a spontaneous fluidity. It's fascinating to watch because you don't know the outcome or where it's going. It is liberating to not know, except to know that you are surrendering to the uncontained beauty of the moment. This does not mean you sit quietly and not participate. It means that you are not setting up restrictive rules and barriers to the outcome. In acting it is essential that the actor does not get ahead of himself and start acting the story's outcome before it actually occurs.
When I go into the audition for an acting role, I have to own that space. My energy changes the molecules in the room, so when I leave, what is left in the room is different because I was there. This happens when I do only what is required of me in that moment. Whether or not I get the role I'm auditioning for, I am not leaving my self-worth in the hands of someone else because I know who I am and what I am there to do. This is the essence of being truthful in the moment.
TIME FOR A CHANGE
In real-life, though, the truth of who we really are is not easy to discern. Just when we think it seems our lives are defined, our world changes and the identity of who we thought we were becomes blurred. This is especially true when we look at the legacy of our generation through the distorted lens of society's perception about aging.
We've spent the better part of our lives moving at a breakneck pace to live the best we can. For a while our generation believed aging was conquerable and our thoughts about what constitutes a youthful life permeated the globe. Now that we've reached a point in life where society believes we are irrelevant, it becomes increasingly difficult not to perceive ourselves in much the same way. And so it is, once again, time for a change in how we perceive who we are.
In researching the book I've been asked why any of these myths are worth addressing and changing about ourselves at this stage of our lives? I found there are many ways to answer, but the one response I kept coming back to is this. If we still find ourselves seeking for that long-lost sense of self-worth in other people and things, there is no better time than right now to reinterpret our ideas about life and realign who we once thought we were with who we truly are in this beautiful moment of now.
________________________________
Want to learn more about the Seven Baby Boomer Myths and how you can Refocus & Renew Your Life™ right now? Go to Amazon today and order my #1 Amazon Best Selling book, "Facelifts, Money and Prince Charming: Break Baby Boomer Myths and Live Your Best Life".
BOOK JOANIE MARX AS A GUEST FOR YOUR SHOW
#1 Amazon Sest Selling Author, Hollywood actress, and Baby Boomer Advocate, Joanie Marx is your ideal guest for your show.
With 30 years in front of the camera and dozens of on-stage performances in front of a live audience, Joanie does not freeze and knows how to hit her mark when the lights are on.
A master storyteller who is well versed in hooking an audience in 30-seconds or less and keeping them engaged throughout her segment.
Delivers emotionally intense and socially relevant information in a digestible form that both Baby Boomers and younger audiences can relate to.
Well trained in improvisational theater, Joanie can easily adapt to any environment and effortlessly interact with the personality of the host and connect with any audience.
Brings a personable sense of humor and no-nonsense approach to complex and often controversial subjects concerning Baby Boomers and younger generations.
If the above is in alignment with your audience and event, you're invited to take a few minutes to watch CLIPS from a few of Joanie Marx's radio and television interviews.