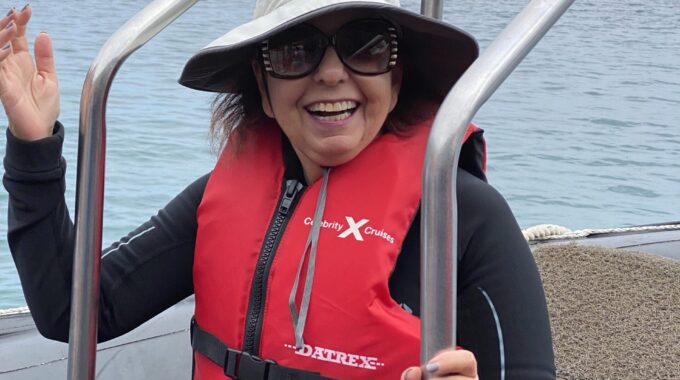 The Galápagos Islands – Part 3
The Galápagos Islands – Part 3
The Galápagos Islands are steeped in rich history and utterly fascinating stories. Some of them are hard to believe at first.
But once you arrive on this literal land before time, and you receive first-hand knowledge from guides and locals, you begin to understand the history and stories are not only real, but timely metaphors for navigating life.
The evolution of the wildlife on the islands is a universal relatable story of transitioning from surviving to thriving. It is something that we, as humans, can understand and learn a lot from.
THE ART OF ADAPTING
The adaptive nature of life on the Galápagos Islands is as boundless as the wildlife there is uniquely diverse.
For instance, many of the wildlife have literally changed their bodies over centuries to assimilate to their environment.
Whether it were these radical forms of adaption or it was more subtle adaptive traits, each were passed on to the next generation of their species for the benefit of not only surviving, but thriving.
It is not just the wildlife that has adapted and evolved to survive, the plants and flowers have as well. One fascinating example I learned was that the bugs that pollenated the flowers on the Galápagos Island were only attracted to yellow and white flowers.
If the plant bloomed any other color, it was not pollenated. For this reason, yellow and white flowers are the only colors that bloom here.
Similarly, things have greatly evolved in our human world over the last several generations. This adaptive quality in humans has seen the rise and fall of many ways of life that once held the key to our survival that are simply are no longer true today.
The ways in which we survived in the past has now given way to new ways of thriving in the present. Be it through advancements in technology, science and creativity to simply being more self-aware than our ancestors, we are all learning to adapt.
IMMUTABLE LAW OF NATURE
Another valuable lesson we can glean from life on the Galápagos Island is that it is not so much the strong that survive.
It's that these unique species on the islands are sensitive to their environment and to the things they eat. Thus, they adapt over generations to transition from surviving to thriving without attachment to what once was but more so an innate understanding and openness to CHANGE.
This reminded me why I dedicated my book, "In Spite Of…" to change. For change is the immutable law of nature. The species that thrive on these islands instinctively know this.
Nature is resilient and so must we be in times of great change. We, as humans, can learn a lot from this.
A LIFE ALTERING ADVENTURE
For these reasons and more, I would not call this a vacation, but more so a series of epic adventures.
It's one thing to see pictures of the Galápagos Islands and something else altogether to visit it in person.
No matter your age or cultural background, traveling to the Galápagos Islands is a positively life-altering adventure. I would highly recommend the experience to anyone who wishes to let go of limiting beliefs and journey beyond their comfort zone…while having a lot of fun!