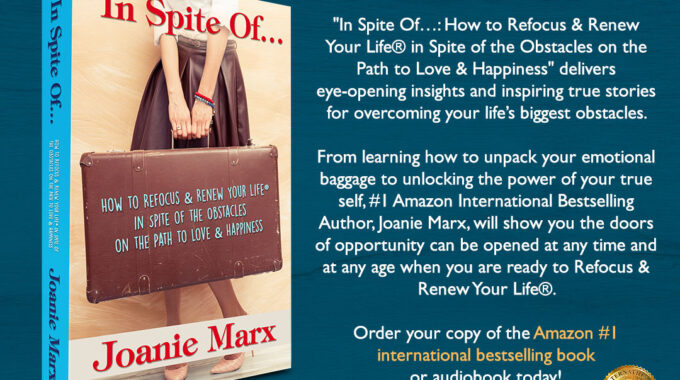 In spite of your achievements in life, do you remain curiously and even frustratingly unfulfilled? In spite of your efforts to create the life of your dreams, do you feel that love, youthful exuberance, and happiness remain devastatingly elusive?
If you can relate to these obstacles, you are not alone. Whether you are a Baby Boomer or the child or grandchild of one, there is a good chance the inner beliefs you have about yourself are generationally shared.
In my new, #1 International Bestselling Book, "In Spite Of… " I share eye-opening insights and inspiring true stories for overcoming your life's biggest obstacles by learning to love yourself on deeper levels than ever before.
From learning how to unpack your emotional baggage to unlocking the power of your true self, you will be shown how to unlock the doors of opportunity can be opened at any time and at any age when you are ready to Refocus & Renew Your Life®.
If you are ready to create the life you desire without emotional baggage weighing you down…this book is for you!
*
Visit Amazon to purchase the book or audiobook of "In Spite Of…".