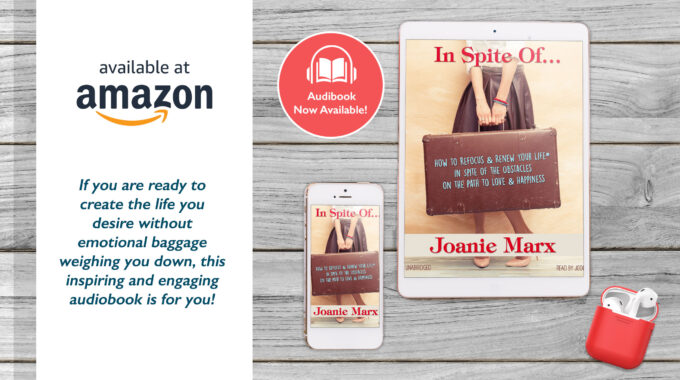 Creating Space In Your Life for What Matters Most
"Entering the home, everything looks the same inside and yet totally different. As much as anything, it is the smell that knocks me off-center. Absent are the wonderful cooking aromas from the bubbling pots on the kitchen stove. Instead, I smell 409 and Windex, wiping away my past.
There are my mother's clothes, shoes, and furniture, each item having been laid out impeccably the night before but now show the signs of people rummaging through them. Nothing about this feels like my home. As I walk through the rooms, the loss becomes heavier and more real than I believed it would be."
Quote from my new #1 Amazon International Best Seller, "In Spite Of…" (Ch. 1 – Pg. 3).
In spite of the unexpected emotional toll my mother's estate sale had on me, I am proud of myself for resisting the temptation to take any items with me. Even though I know I did the right thing, the disapproving voice of my inner critic was still there to judge me.
In an earlier part of my life I probably would have caved in to the guilt, as my mother spent years questioning my choices for independence. In spite of knowing how much my mother cherished her home and belongings, I made a personal declaration on that day not to lose myself in beliefs or things that no longer fit into the life I am here to live.
My intent with this choice was not to dishonor my mother or discount the value of her belongings. It was about creating space in my life for what matters to me.
How often have you found yourself wanting to create space in your life for your true self to emerge, in spite of negative inner talk, or even shaming from others who would rather you serve their interests instead of your own?
In my best-selling book, "In Spite Of…" I share deeply personal experiences, such as my mother's estate sale, where I was faced with a choice to give into the negative inner critic or to listen to the voice of my true self. I chose my true self, but the path to honoring that choice was not easy.
If you can relate, I invite you to learn how you can rewrite the old narrative of your inner critic and refocus and renew any area of your life on your terms by visiting Amazon or other major online book sellers to purchase the book and audiobook version of "In Spite Of…: How to Refocus & Renew Your Life® in Spite of the Obstacles on the Path to Love & Happiness".
*
The narration for this video post is an excerpt from the audiobook for "In Spite Of…", narrated by the gifted, Jodie Bentley. Background music and graphics produced by Austin Alchemy of Austin Media Productions.
*
Click here to purchase the audiobook of "In Spite Of…" at Amazon.